The new Mercedes eActros LongHual has been presented in society. Mercedes' new 100% electric truck is equipped with three battery packs and boasts a range of approximately 500 kilometres. It advances the production version that will arrive at dealerships in 2024.
Heavy commercial and/or industrial vehicles are no strangers to the process of electrification and transition to sustainable mobility in which we find ourselves. Mercedes-Benz Trucks, one of the main manufacturers of trucks and trailers, has presented in Hannover (Germany) its new and interesting proposal for the transport of goods by road. The Mercedes eActros LongHual.
The new eActros LongHual is a 100% electric vehicle with the ability to travel long distances and transport large amounts of merchandise. A vehicle that will end up reaching the market and whose start of series production already has a date.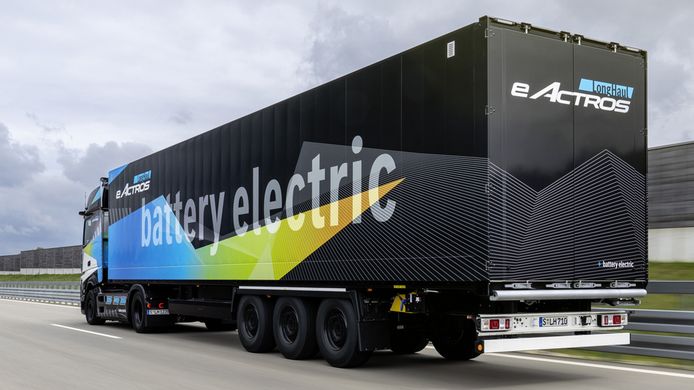 Mercedes stresses that the design of the new eActros LongHual that has been shown to the public it is not the final version of the vehicle that we will see circulating on European roads in a few years. It is a prototype close to production that will undergo several changes. Just take a look at the published images to discover its most characteristic features.
The headlight clusters draw a striking and modern light signature. The digital rear-view mirrors, added to several body elements, reveal a worked aerodynamics. Something crucial in an electric vehicle and even more so when talking about trucks.
The autonomy of the new Mercedes eActros LongHual
Being a 100% electric vehicle, all eyes are naturally on the propulsion system. Inside the new eActros LongHual are no less than three battery packs. Batteries whose total added capacity exceeds the 600 kWh barrier. Current technology makes such a high capacity necessary to offer solvent performance in a vehicle of this size and weight.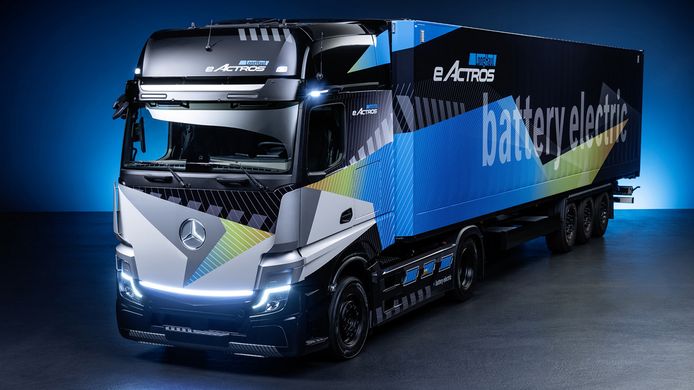 The energy stored in the batteries is used to power two electric motors that develop a power of 400 kW (544 hp). For short periods of time this power can reach peaks over 600 kW (816 hp). As far as autonomy, you can travel about 500 kilometers on a single charge. A fact that, logically, will vary depending on the load transported.
As far as charging times are concerned, they will vary depending on the electrical outlet used. The company points out that it will be possible to complete the process of recharging the batteries from 20% to 80% in just 30 minutes using high-power charging points.
Release date of the new Mercedes eActros LongHual
When will it hit the market? The new eActros LongHual will be the first 100% electric truck in series production that Mercedes-Benz Trucks will manufacture in Wörth (Germany). The production process will start sometime in 2024. Its launch will mark a turning point in the transition to sustainable mobility being carried out by the Mercedes-Benz Group truck division.
Font:
Mercedes Benz