The inconsistency of the stipulated grams with the original ones in the Juan Roig supermarket
One of the best known supermarkets in our country, Mercadonacontinues with the great controversy of its weights, being the victim of this new event its products of pasta. That as another consumer of the establishment has shown, he has less than the stipulated amount.
The establishment of Juan Roig It has already accumulated thousands of tweets on social networks where the lack of its heavy products is shown. This is how we have already witnessed the exhibition of their burgerswhich weighed 470 grams, while they should have weighed 540 grams.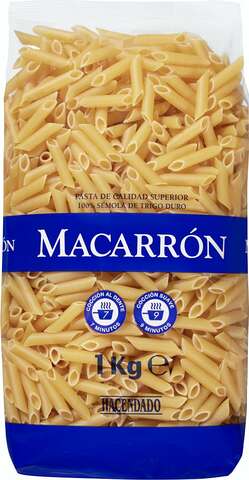 Hacendado attacks again with its erroneous weights that make the product more expensive
The new event has taken place with the Hacendado pasta belonging to the famous supermarket, Mercadona. A consumer who usually buys this product from their establishments has deigned to weigh it after the growing controversy of its weights.
To his surprise, he has also been a victim of Juan Roig's new bad practice. As you can see from the video that has been posted on social media, he weighs a package of macaroni that is supposed to weigh 500 grams, while it actually weighs 443 grams.
The bad practices carried out by supermarkets in times of crisis
Due to the increase in the prices of all products, which in turn has increased the price of raw materials, supermarkets have sought unethical solutions to save their profits. Among them, the controversy over Mercadona's weight stands out, and can be classified under what is called reduflation.
This practice is carried out by offering a product with less quantity, at the original price of the same or a little more expensive. This means that the consumer is the one who bears the increased costs, while the supermarket continues to obtain the same benefits as originally.