Dacia began to consolidate its successful path as a 'low cost' brand. And it continues down that path, but with increasingly careful products in every way. Bet on equipping your vehicles with the essentials so that the price does not increase unnecessarily. And, of course, it doesn't take a backseat to new and inevitable efficiency challenges. And in that direction, the brand has unveiled its new Dacia Manifesto concept. It is a laboratory of ideas that unifies aspects of design, versatility, efficiency… although it does not announce, in principle, the arrival of a new vehicle.
The Manifesto is a kind of Light buggy that dispenses with everything that is not strictly necessary. Here it is about reaching the end of the world and being and feeling nature. That's why there are no doors, but neither windshield nor windows. There are no crystals anywhere to isolate us from the environment.
Built with recycled materials
At the same time it is a robust product created with recycled materials. It moves with electric power exclusively, although its technical data was not disclosed. Currently the brand It has the Spring as the only exclusively electric model.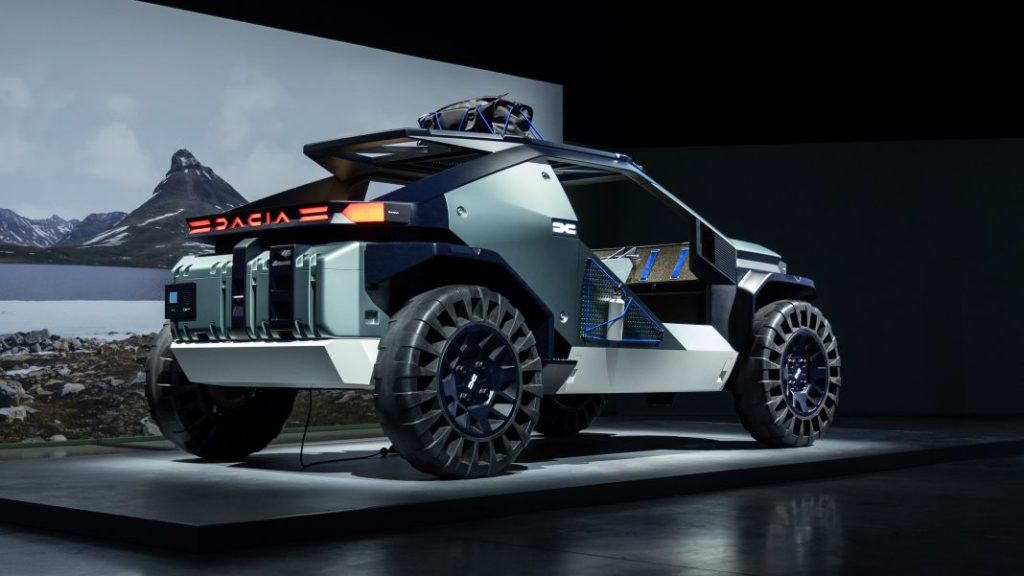 This concept leaves everything in sight because there is no type of filter with nature. There is also nothing extraordinary when it comes to receiving information. It is done through our smartphone. If with this 'gadget' we have the world in our hands, why mount it in the vehicle. It is something similar to what the brand already offers with the basic Media Control multimedia system in many of its models.
Will detect driver fatigue
The MyDacia app has a lot to say about this. In addition to navigation, music and other services that we carry on our mobile, shortly It will have an advanced system that will detect the driver's fatigue.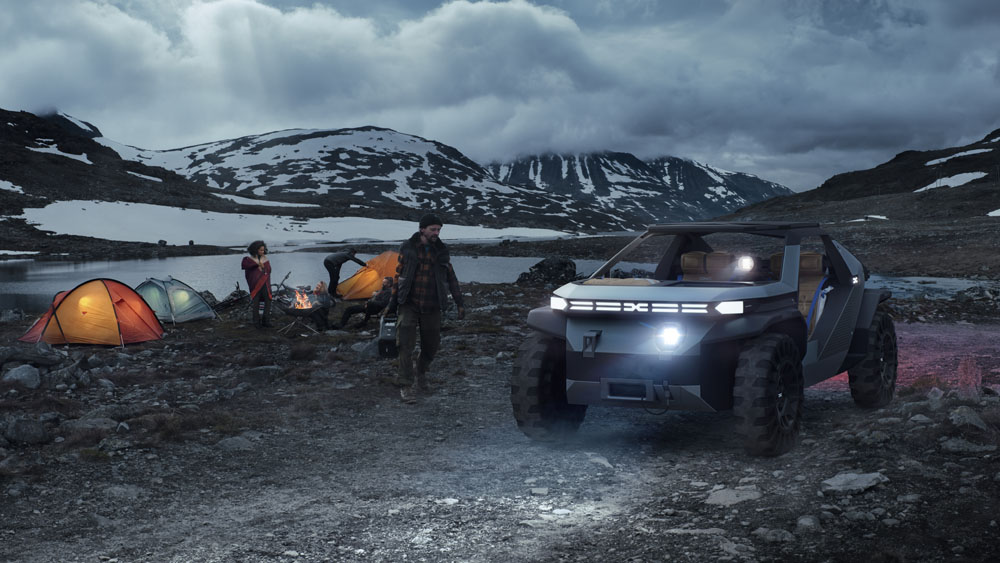 There is something that Dacia has also earned hard, such as the robustness and reliability of its cars. And that carries over to the Manifesto. It is built mostly with plastics to reduce weight and, therefore, consumption. But it is a special plastic, recycled from polypropylene.
This material is called Starkle and is a kind of registered trademark that should be remembered. The reason is because its use will be extended in series models. For example, the Duster has 12 percent recycled plastic. The next generation will hit 20 percent. Its alot? It seems so because the manufacturer average currently reaches 8 percent.
Seats or sleeping bags in the Dacia Manifesto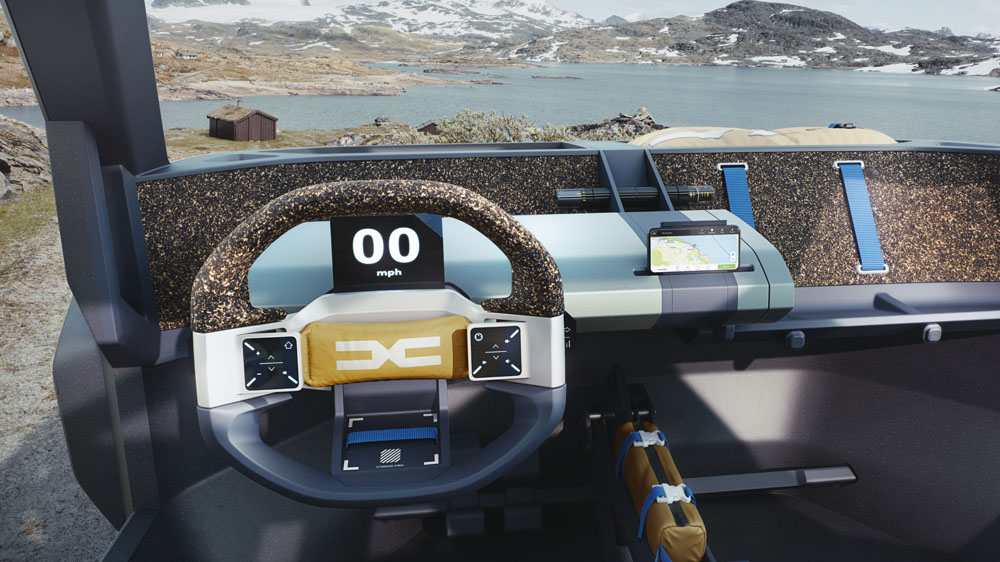 The interior is also taken care of to the maximum ecologically speaking. In this case, the plastic is combined with the cork that covers the entire dashboard. Let no one expect chrome or animal skins because Dacia already renounces these materials. The seats have easy-to-clean linings (the passenger compartment withstands a water hose without problems) and are completely removable. In case of need, they can be converted into practical sleeping bags for the night.
Airless wheels to reach the end of the world
Simplicity and practicality are also found in the tires. It is a vehicle with Very pronounced offroad qualities, increased by its generous ground clearance and an all-wheel drive system. Of course, a puncture could make our excursion bitter. This will not be the case in the Manifesto, as it falls back to airless tires. They are made of recycled material and do not need maintenance because they will be preserved throughout the useful life of the vehicle.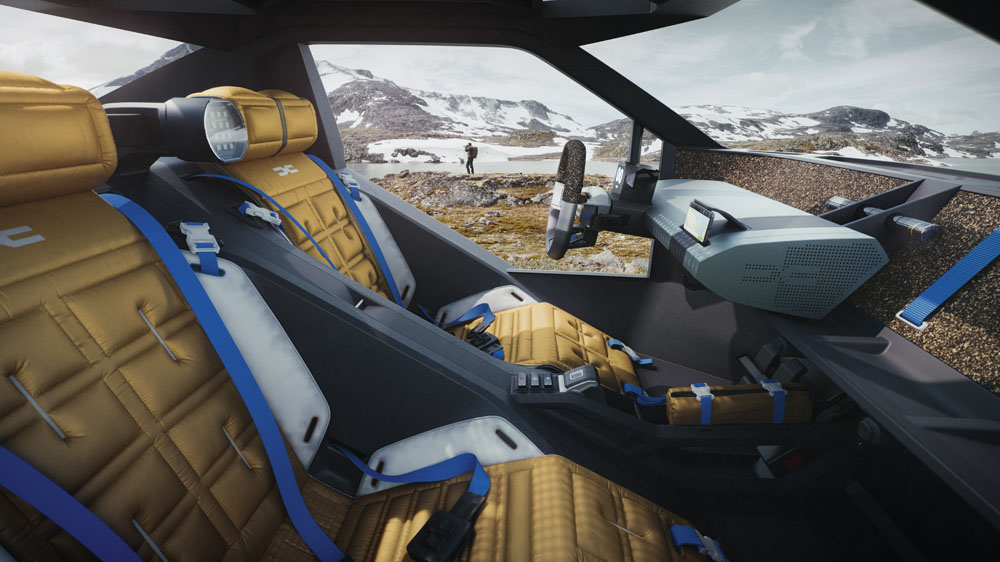 There is only one headlight in front. They assure that for what else if with one it is worth. Logically this would conflict with current legal regulations, but it is about offering original solutions. And in this sense the lighthouse It is removable in order to become a very useful flashlight when camping. In the rear there is not a gate or a trunk to use. Everything remains in a surface with multiple functions that will be requested according to the needs.
Practical solutions of the Dacia Manifesto concept
Another factor that will be talked about is the so-called YouClip. It is a fixing system that allows a simple way to fix all kinds of objects. We will see it, like many of the ideas of this concept-car, in future series models.
Likewise the modular roof is focused on carrying heavy loads due to the drop-down fixing bars. This solution allows various configurations of use. Similar solutions are already used by models such as the Sandero Stepway or the Jogger. The latter will receive a new boost next year in the form of a hybrid version. At the moment the ECO label in Dacia is accompanied by the variants powered by LPG (Liquefied Petroleum Gas).